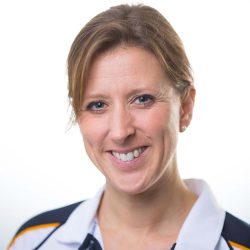 About Sarah Moore
BSc (Hons)
After obtaining her BSc (Hons) from the University of Brighton in 1997, she worked at UBH in Bristol between 1997 - 2004, which included taking a year to explore the world and work as a physio within HIH Insurance in New Zealand. She also worked as a medic for Trekforce in the jungles of Borneo for two months.

Having attended many postgraduate courses, including obtaining her certificate in Acupuncture, she undertook a specialist qualification in neuromusculoskeletal physiotherapy –a 2 year diploma and post graduate examinations resulting in her obtaining membership of the Musculoskeletal Association of Chartered Physiotherapists. During this time she moved to Exeter to take up a team lead role at the Royal Devon and Exeter NHS Trust, which quickly progressed to a Clinical Lead Role covering MSK Outpatients, Women's Health (including Obstetrics), Rheumatology, Hydrotherapy and Cardiac Rehab and Respiratory outpatients, as well as working as the specialist physiotherapist for Haemophilia patients.

Keen to continue developing, Sarah completed her MSc in Neuromusculoskeletal Physiotherapy from Cardiff University in 2012. Latterly, Sarah has also had a role as Principle Investigator, Exeter Site, in the PROVE trial run by Oxford University, the National Osteoporosis Society, National Institute for Health Research and Oxford Nuffield NHS Trust. This is the largest trial in the UK investigating Physiotherapy rehabilitation for the treatment of Osteoporosis.

Having completed multiple service reviews over the years, Sarah has implemented this knowledge to ensure she runs an efficient and effective business. She has always enjoyed her regular teaching and 1:1 mentoring, and is keen to continue this within her private practice, both with other physio's and doctors, as well as health promotion within local businesses. Initiatives she has been involved with include helping set up and auditing a dedicated occupational physiotherapy service at UBH in Bristol, and Physio Direct – a physiotherapy advice line.

Specialising in complex conditions, but equally happy to treat any musculoskeletal problem, Sarah has a passion to provide the best possible care for your condition. She is determined to help clients not to be defined by their diagnoses, and to help them optimise their musculoskeletal health, function and well being.